Happy Release Day to M.N. Forgy!! The second book in her Devil's Dust series, The Scars that Define Us, is out today!!
The Scars that Define Us
(The Devil's Dust, #2)
Author: M.N. Forgy
Publication Date: October 31, 2014
Release Day Blitz of Lisa Renee Jones Play with Me!!
Play with Me
Author: Lisa Renee Jones
Publishing Date: October 28, 2014
Publisher: Loveswept
Genre: Contemporary Romance
Today is the big day! The prequel installment in Tricia Skinner's ANGEL ASSASSINS series is being re-released into the wild, and will be available on Kindle at the discounted price of $0.99 for a limited time (exclusive to Amazon for 90 days). Please note that if you own the old ebook, you can upgrade for free!
And now, without further ado, feast your eyes on ANGEL BAIT:
Author's Website | Amazon | GoodReads
He's not that kind of angel.
Jarrid is a ìBound Oneî: half angel, half human, trained from childhood to enforce Heavenís laws on earth. An assassin with no remorse. And no choice. When he discovers an ancient ritual called Ascension, which might give him a shot at freedom, he canít resist his lifelong dream. He only needs to find one last Renegade angel and take him downÖusing a certain woman to flush the angel out of hiding.
She's not what he's expecting.
News reporter Ionie Gifford has no clue an outlaw angel wants her dead, much less why, but she does know one thing: the enigmatic Jarrid, with his penetrating silver eyes and his worship-worthy body, is her ticket to the city's supernatural underworld, where she might finally be able to locate her mother's killer. For that kind of information, she's willing to risk everything…
They can't be together — but can't keep apart…
Blindsided by Ionie's beauty and tenacity, Jarrid finds the millennia-old glacier around his heart melting. But when he's faced with a choice, will he sacrifice Ionie for freedom from his brutal servitudeóor agree to be bound for eternity, to protect the life of the woman he's falling in love with?
From novelist Tricia Skinner comes a story that will have fans of action-packed love stories applauding. Seamlessly combining elements of paranormal romance and gritty urban fantasy, the Angel Assassins series is a heart-pounding spin on angel mythology.
Website | Facebook | Twitter | Goodreads | Pinterest | Google+ | Blog | Amazon
I'm Tri­cia Skin­ner and I write Romantic Urban Fan­tasy. I'm a for­mer jour­nal­ist who dis­cov­ered my inspi­ra­tion to write fic­tion as an escape from "real life." My read­ing tastes are all over the place, but I'm mainly drawn to fan­tasy (and its sub­gen­res), para­nor­mal, sci-fi, and history.
When I'm not writ­ing, I'm a new­bie "green" prac­ti­tioner, strength train­ing fan, and a tech­nol­ogy geek. I'm a mother and a wife. My fam­ily includes two Great Danes. I'm also a gamer. I enjoy inter­act­ing with my fel­low geeks and help­ing other writers. I'm rep­re­sented by Lau­rie McLean of Fuse Lit­er­ary. *Photo by Kauwuane Bur­ton.
---
Brought to you by:
NYT Bestselling Author Alyssa Day has a Halloween "treat" for fans of her The Warriors of Poseidon series. HALLOWEEN IN ATLANTIS, a novelette addition to the series, releases on October 29th!
1. Describe yourself in five words.  
Dark, twisted, funny, worrier, control-freak.  (that last one was hyphenated, so I totally count it as only one word. See? Control-freak. LOL.)
2. Tell us a little bit about Halloween in Atlantis and why readers should definitely check it out?
It's funny and sexy and an Atlantean warrior tries to kill a jack-o-lantern with a sword (the non-euphemistic kind!) on the very first page!
3. What inspired you to write Halloween in Atlantis?
Halloween is my very favorite holiday of the year.  Dressing up, parties, candy–the night has always felt like magic to me, even before I began to write paranormal romance.  And the idea that my serious, alpha male Warriors of Poseidon should have to encounter Halloween, a holiday they'd never known, totally cracked me up.
Welcome to Book Lovin' Mamas virtual stop on the When We Met Blog Tour brought to you by InkSlinger PR.
When We Met
Authors: A.L. Jackson, Molly McAdams, Tiffany King, and Christina Lee
Publishing Date: November 4, 2014
Publisher: NAL Trade
Genre: New Adult
Whatever You Do
(Try Again, #2)
Author: Stephanie Smith
Release Date: January 15, 2014
Genre: Contemporary Romance
We are so excited to share with you the cover for book 2 in the Take Me Series by K.A. Linde – Take Me With You, scheduled for release January 2015!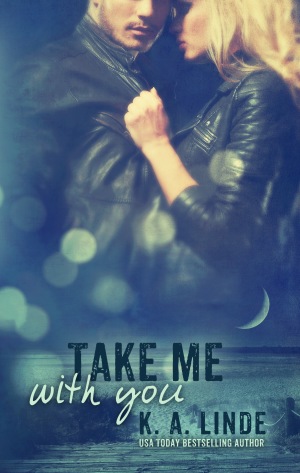 Release Date: January 27, 2015
Grant All of my demons are coming to head. I thought Ari could push them back. I thought I could conquer my vices with her at my side. I thought wrong.
Aribel Fear is my new constant. I thought I could conceal it, contain it, control it. I thought that now that I had Grant the worst was over. I thought wrong. But if we're going to survive, wherever you go…take me with you.
Cover Designed by Najla Qamber Designs

Pre-order at iTunes
Falling In
(The Surrender Trilogy #1)
Author: Lydia Michaels
Publishing Date: October 7, 2014 (paperback)
Publisher: Berkley
Genre: Contemporary Erotic Romance
Source: Publisher
The debut of an emotionally charged and highly erotic contemporary romance trilogy, in which love and trust are the most dangerous games of all…
With a dark past that would have shattered most people, Evelyn "Scout" Keats is doing what no one in her bleak world thinks possible—getting off the streets and leaving her impoverished life behind. She's a new maid at the luxurious Patras Hotel, and aims to keep her job no matter what. But that doesn't mean she's going to sacrifice her dignity, or let anyone into her heart. The risk of losing either is just too great.
When hotel tycoon Lucian Patras discovers Evelyn in a compromising position, he uses everything at his disposal to seduce her—a proposition that both surprises and frightens her.
Ignorant to her true circumstances, Lucian relentlessly pursues Scout as a prize to be won. But he is soon given an unforgettable lesson in love and sacrifice when he learns how far Scout has gone to gain her independence and discovers that there are some things money can never buy.
Yowza! We are extremely excited to bring you the Release Day Launch for Cora Carmack's ALL BROKE DOWN!! ALL BROKE DOWN is a New Adult Contemporary Romance novel being published by HarperCollins, and it is the 2nd book in The Rusk University Series.
 All Broke Down
(Rusk University #2)
Author: Cora Carmack
Publishing Date: October 28, 2014
Publisher: William Morrow Paperbacks
Genre: New Adult
On Her Father's Grave
(Rogue River #1)
Author: Kendra Elliot
Publishing Date: October 7, 2014
Publisher: Montlake Romance
Genre: Romantic Suspense
Source: Netgalley
In a small town like Solitude, Oregon, keeping a secret can be murder.
Stevie Taylor had left her sleepy Oregon hometown for a more exciting life. But after her police chief father passes away, the LAPD cop returns to Solitude and signs on as a patrol officer, hoping to heal from her loss…and from the horrific things she's seen in the city.
In Solitude, everyone knows everyone else's business—and, to Stevie's dismay, local gossip soon ties her to the new police chief and a man from her past. Tragedy then shakes up the small town when a teenager dies after taking a strange new drug. Now, the seasoned LA cop must hunt down the dealer while investigating the most important case of her life, one that could divide her tranquil town.
My Review: